From the poor house to Palm Beach
Writing brought New York kid wealth, fame
By KIM COOL
FEATURES EDITOR
Prolific writer James Patterson lives well now but he spent his early years in the poor house in Newburgh, N.Y.
He and his parents lived in one room. His mother cleaned the house. But as hard as they worked, his parents always found the time to read to their son.
When his father joined the military, things got better.
Patterson went to a Catholic school and there, he decided to go to college at Harvard, Yale, Colby or Bates, but his applications never were sent in.
The head of his school had other ideas, arranging for him to have a "free ride" at Manhattan College.
The audience at this year's Sarasota Library Foundation luncheon learned all this and more about Patterson, whom Shannon Staub introduced as "the ultimate storyteller."
Patterson has sold more than 350 million books: adult thrillers, sports novels, romantic novels, true crime and children's books, among other genres. His latest best-seller is "All-American Murder."
As prolific as Patterson is on his own, he writes many additional books with other authors, including President Bill Clinton, with whom he currently is writing "The President is Missing."
He also co-writes with those who are less well-known.
"I write the outline and expect them to have something back to me in two or three weeks," he said. "When it gets to the fourth or fifth draft, I dig in."
Patterson said he doesn't like literary critics because they don't like co-authors.
"My defense of co-authors is Lennon-McCartney, Rogers and Hammerstein and others," he said.
Multiply the number of books with his name on them by the many languages into which they have been translated and the financial result to Patterson is estimated to be about $95 million a year.
"I've been poor, then middle class, then poor. Now I'm rich," he said. "I prefer rich.
"I live in Palm Beach, the city of the 'used to bes' — he used to be the president. He used to be chairman of …."
No wonder so many people aspire to a be best-selling writer.
Of course, it's not that easy.
"If you are going to make it as a writer, you have to have the passion," Patterson said. "You can't do it without passion."
Ad man
Patterson got conflicting advice when he was starting out.
"You write well, but stay away from fiction," he was told by a college English professor. While when at Vanderbilt for graduate school he was told, "You should write fiction."
Patterson's first success was in advertising, where he rose to be president and CEO of J. Walter Thompson's North American Company.
"I didn't like advertising, but you become very aware of your audience," he said. "It is a good lesson when you learn that nobody cares."
As an executive, Patterson said he hired only one kind of person: "Someone who was very talented and fun to be around."
Despite the mixed messages he received in college, he continued to write fiction even as he pursued an advertising career.
At 26, he shipped his first novel off to a publisher. He received 31 rejections.
"I still have every one of them," he said.
Finally accepted by a publisher, "The Thomas Berryman Number" won an Edgar Award from the Mystery Writers of America.
While in the area, he was doing a signing at Bookstore 1, an independent book store in Sarasota, as well as speaking to the Library Foundation. Whenever he is in a book store, he said he watches to see if anyone picks up one of his books.
One day, he said, he saw a lady pick up his book as if she were going to purchase it and tuck it under her arm. One aisle over, she slipped the book into her purse, and he wondered, "Does that count as a sale?"
WRITING | 2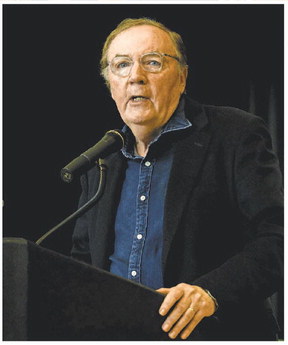 Best-selling writer James Patterson is currently co-writing a book with President Bill Clinton.
PHOTOS BY CLIFF ROLES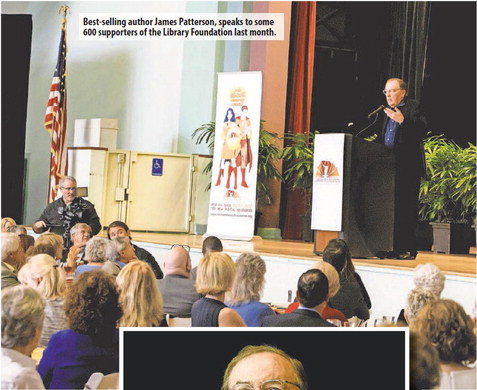 Best-selling author James Patterson, speaks to some 600 supporters of the Library Foundation last month.
The rest of the article is supposed to be here, but an error prevented it from loading - sorry about that!